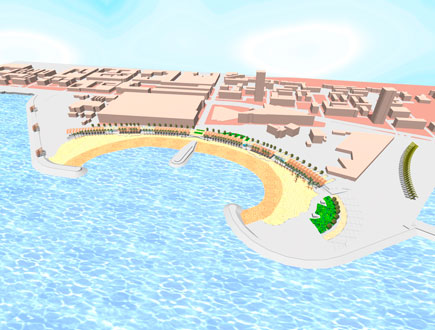 Description
Carboncillo is the first artificial beach of Chile. Designed by Incostas. Consisting of a artificial resort of 400 meters long and 80 meters wide sand beach, reclaiming to the sea 8 thousand square meters areas of tourist facilities, public walkways and resort areas concessions.
Incostas developed the project to generate this artificial beach, with an extension of the length of the beach shore, with a continuous background of sand and adequate safety conditions for bathers. This was achieved, with the construction of new Breakwater North, South, Submerged and Control, the removal of the rock from the bottom and the filling with borrowing sand.
The project contemplates the realization of the description of maritime works, technical and constructive specifications, bathymetry, topographical survey, characterization of the beach and the seabed, Eulerian correntometry. In addition, study of the refraction of the swell with the mathematical model OUTREY, excavation and dredging of contaminated sand, calculation of the geometry of the beach, structural and geometric design of the breakbreaks and finally the Environmental Impact report.